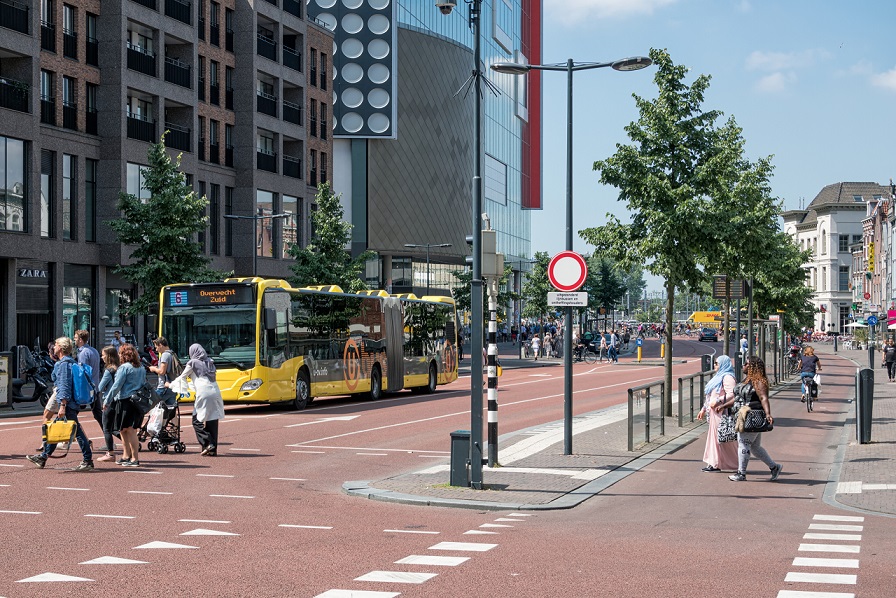 The Mobility Research Department of the City of Utrecht collects a lot of data from various sources: traffic lights, detection loops, cameras, sensors. Dozens of parties provide data, in various formats. The municipality of Utrecht was looking for a platform to answer all kinds of mobility questions.
Think of intersection calculations to adjust traffic lights, variant studies of infra projects and redevelopment projects and monitoring the amount of mobility. InTraffic realized this platform together with KPN and the City of Utrecht using a design thinking approach.
The result: a flexible platform for answering mobility issues
KPN has developed a robust infrastructure for data sharing: the Data Services Hub (DSH). This is a platform that centrally unlocks real-time data from many different sources. InTraffic has built a solution on top of the KPN DSH to answer mobility questions: the Multimodal Analytics (M2A) platform. This is an environment that converts data from different sources into an integrated data model, allowing you to merge and integrate different sources with each other. The M2A platform also contains standard algorithms and dashboards for mobility issues. For the municipality of Utrecht, this scalable platform was used to set up a customized solution: the Mobility Data System (MDS).
InTraffic's contribution
The MDS platform is a further development of InTraffic's M2A smart mobility platform. M2A is the ultimate scalable platform on which you can access unlimited data sources from different parties. In theory, even from all Dutch municipalities and all parties collecting data in one way or another for those municipalities.
InTraffic converts that data into information and uses algorithms to extract insights. This involves a lot of domain knowledge. After all, without knowing the context, it is impossible to interpret the data. But on the other hand, if you understand the context well, it is even possible to extract things from the data that we do not measure directly. Based on this in-depth domain knowledge and technical expertise, InTraffic has developed a platform that can deal with a diversity of data issues.
Partnership
The uniqueness of the partnership with the municipality of Utrecht is that they did not ask for a ready-made product, such as a dashboard. But that the municipality was looking for long-term partners to help them develop a data platform for smart mobility. The mobility data challenges in the city of Utrecht were even more complex than initially thought but gaining insight into this complexity is precisely something that suits the design thinking approach. The combination of KPN's data knowledge and InTraffic's technical domain knowledge allowed us to deliver a platform that is scalable and has the potential to handle other smart city issues as well.